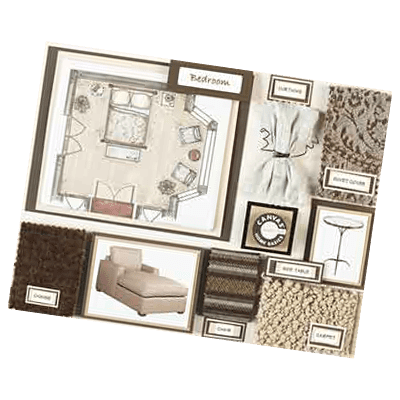 Whole Room Design
Coastal Maine Interiors offers a portfolio of design services from basic consultations to complete renovations and new construction.
Whole Room Design & Decorating can be as simple as selecting paint colors or more involved, such as selecting furniture styles in the proper size & scale for the room, fabrics for custom window treatments and accessories or the right flooring for the space.
Space Planning is arranging furniture in a room or the entire home to create functional and appealing spaces. We have the ability to create visuals to assist you in envisioning how the room will look. 
Paint Color Consultation can involve a single room or the entire house. We'll recommend paint colors that complement your style. 
Selecting Furnishings, Flooring and Finishes that work together can be a difficult task. We'll help you select the right furnishings, carpets or area rugs and window treatments for your home. 
Our Interior Decorating Process
Right from the start, you'll be involved in the design and decorating process – whether you prefer limited involvement or a collaborative effort. We'll meet with you to listen to your ideas and share our thoughts on the project. We'll develop and present a plan which we mutually agree upon. The project scope includes measurements, developing the overall plan with expected time frames, ordering products, work orders, monitoring work flow, delivery and on-site installation to complete the project. 
Can We Design a Room for You?
Let us know how we can assist you. Give us a call at 207-846-3312 or Send us a note. 
Learn More About Us:
Our Window Treatments/Custom Accessories and Project Management Services.
---